Trump Will Win Ohio by Narrow Margin, Predicts Gov. Mike DeWine
Gov. Mike DeWine (R-Ohio) said in an interview on ABC that he expects President Donald Trump will ma..
---
Gov. Mike DeWine (R-Ohio) said in an interview on ABC that he expects President Donald Trump will manage to clinch a narrow victory in battleground state of Ohio in the November presidential election.
DeWine said on Sept. 6 that while he believes Trump will emerge victorious, a win is by no means a foregone conclusion.
"Its going to be a close race in Ohio. I think the president will win Ohio. But Ohios always going to be a battleground state. And you know, neither side can ever take Ohio for granted," he added.
The governor cited satisfaction among Ohioans for the presidents policies on the economy and the judiciary as key factors that he expects will push Trump ahead of Democrat nominee Joe Biden.
"I think, you know, what the president has done in regard to the economy before we hit the virus, you know, I think people in Ohio are generally very happy with that. You know, the president made commitments in regard to the Supreme Court and federal courts. Were very happy with what hes done there," DeWine said.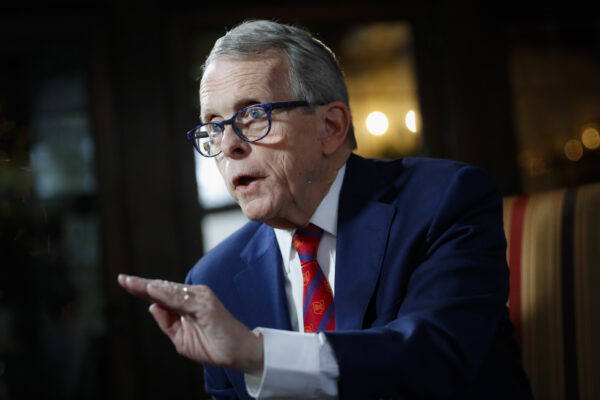 In the 2016 election, Trump won Ohio by a comfortable margin of 8 percentage points. Democrats have since made gains in suburban areas, while Republicans have broadened their support in rural counties.
In July, Trump pitched a stern "law and order" message to suburban voters, accusing Democrats of seeking to "destroy our suburbs."
Addressing a group of supporters in Phoenix, Trump pointed to the Seattle riots, which saw protesters force the shutdown of a police precinct and essentially take over part of the city, saying, "Thats exactly what will come to every city near you, every suburb and community in America, if the radical-left Democrats are put in charge."
Trump later directly attacked Biden as being soft on crime and seeking to defund the police, charges that Biden has disputed. The White House hopeful wrote in an op-ed in June that, "I do not support defunding the police," while in recent remarks in Pittsburgh, Biden said, "The senseless violence of looting and burning, and destruction of property—I want to make it absolutely clear, something very clear about all of this—rioting is not protesting, looting is not protesting, setting fires is not protesting," he said. "None of this is protesting. Its lawlessness, plain and simple. And those that do it should be prosecuted."
Trump also blamed Biden for siding with "anarchists," who the president has argued are responsible for hijacking legitimate protests.
"No one will be safe in Bidens America. My administration will always stand with the men and women of law enforcement,"
[contfnewc] [contfnewc]