Trump: 2020 Election a Choice Between American Dream, Socialist Chaos
President Donald Trump during the Republican National Convention (RNC) suggested the Democrats pose ..
---
President Donald Trump during the Republican National Convention (RNC) suggested the Democrats pose an existential threat to the United States, casting the November election as a binary choice between order and chaos.
"At no time before have voters faced a clearer choice between two parties, two visions, two philosophies, or two agendas," the president remarked in accepting the GOPs nomination for president. "This is the most important in the history of our country," he said, adding that Democrats want to create a "socialist agenda" to "demolish" the United States.
Democrats, he suggested, are obscuring a far-left, socialist agenda and are propping up Biden as a moderate Trojan Horse.
Trump excoriated Democratic nominee Joe Biden and his party, saying that his administration has "spent the last four years reversing the damage Joe Biden inflicted over the last 47 years. At the Democrat convention, you barely heard a word about their agenda. But thats not because they dont have one. Its because their agenda is the most extreme set of proposals ever put forward by a major party nominee."
In recent months, Trump has cast himself as the "law and order" candidate in the midst of protests, riots, arson, looting, and general civil unrest in the wake of George Floyds death in Minneapolis. At the same time, he has accused Biden of kowtowing to the more radical elements in the Democratic Party in the midst of calls to defund police departments.
"How can the Democratic Party be asked to lead our country when it spends so much time tearing down our country," Trump rhetorically asked.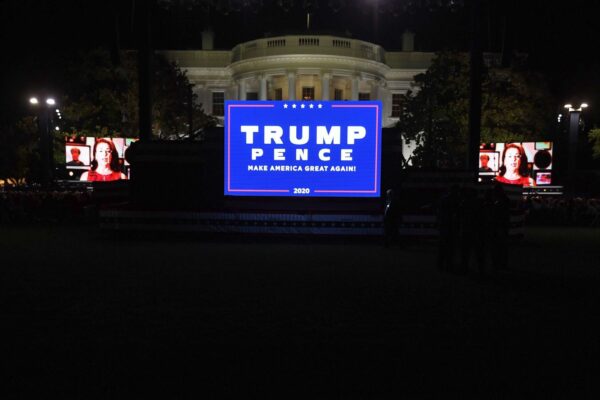 Biden, 77, on Thursday, accused Trump, 74 of using the specter of violence as a "political strategy," rather than actually aiming to address it. Democrats formally nominated Biden at a convention last week.
"Donald Trump keeps saying it wont be safe in Joe Bidens America," he said. "Their proof? The violence youre seeing is in Donald Trumps administration, Donald Trumps America. Did they forget whos president?"
Earlier in the night, Senate Majority Leader Mitch McConnell (R-Ky.) made little mention of Trump but instead focused on the Democrats, saying that the party doesnt want to improve the lives of people living in "flyover country," adding that they want to "defund the police and take away your Second Amendment rights." McConnell, like Trump, reiterated that Bidens agenda as president isnt clear.
Before Trump, RNC speakers warned about Biden embracing the left-wing agenda, which was underscored by Vice President Mike Pence on Wednesday. Earlier on Thursday night, the GOP tapped NYPD union boss Patrick LynRead More From Source
[contf] [contfnew]
[contfnewc] [contfnewc]