Iran, Turkey Condemn UAE Over Deal with Israel to Establish Full Normalization of Relations
Iran and Turkey officials on Aug. 14 lashed out at the United Arab Emirate (UAE) following its decis..
---
Iran and Turkey officials on Aug. 14 lashed out at the United Arab Emirate (UAE) following its decision to fully normalize relations with Israel in a deal brokered by U.S. President Donald Trump.
Leaders from both nations accused the UAE, their regional rival, of betraying the Palestinian cause.
The agreement was brokered Thursday as part of the Trump administrations 80-page Middle East peace plan. It establishes full diplomatic relations between the Gulf monarchy and Israel while halting Israeli plans to declare sovereignty over certain areas, including the occupied West Bank, which the Palestinians view as the heartland of their future state.
In a statement Friday, Irans Foreign Ministry described the agreement as a "dagger that was unjustly struck by the UAE in the backs of the Palestinian people and all Muslims." It also said the agreement was an act of "strategic stupidity" by the UAE, which "will undoubtedly strengthen the axis of resistance in the region."
Turkeys Foreign Ministry meanwhile said the peoples of the region "will never forget and will never forgive this hypocritical behavior" by the UAE.
"While betraying the Palestinian cause to serve its narrow interests, the UAE is trying to present this as a kind of act of self-sacrifice for Palestine," the foreign ministry said.
After the deal was established, Trump told reporters Thursday that the "historic peace agreement…will allow much greater access to Muslims from throughout the world to visit the many historic sites in Israel."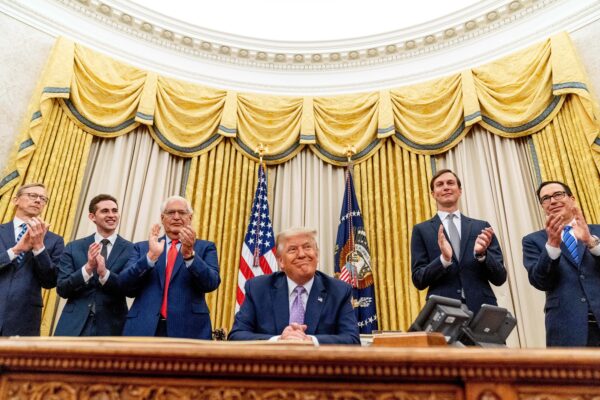 "After half a century, Israel and the United Arab Emirates will fully normalize their diplomatic relations," Trump continued. "Nobody thought this was something that could happen for a long time. This is the most important diplomatic breakthrough since the Egypt-Israel peace agreement."
"I made clear that the problems of the Middle East can only be solved when people of all faiths come together to fight Islamic extremism and pursue economic opportunity for people of all faiths," the president said.
The two countries will open mutual embassies and will immediately cooperate on the developmentRead More From Source
[contf] [contfnew]
[contfnewc] [contfnewc]