Cruz: Get People Back to Work Instead of Pushing Government Dependency
As lawmakers struggle to find common priorities for the next stimulus package, Sen. Ted Cruz (R-Texa..
---
As lawmakers struggle to find common priorities for the next stimulus package, Sen. Ted Cruz (R-Texas) criticized House Speaker Nancy Pelosi (D-Calif.) for keeping businesses and schools closed instead of prioritizing getting Americans back to work and off government assistance.
Cruz went further to say he does not even agree with the provision in the GOP stimulus bill which would continue to fund the additional $600 per month unemployment benefits.
"At the same time, we have an absolute economic catastrophe: We have over 44 million Americans that have lost their job. And we have got to get America back to work," Cruz told CBSs "Face the Nation" on Sunday.
"Unfortunately, I just listened to your interview with Speaker Pelosi, her objectives are focused on neither of those. Her objectives are shoveling cash at the problem and shutting America down … You look at the $3 trillion bill shes trying to push. Its just shoveling money to her friends and not actually solving the problem," Cruz said.
Cruz said many small businesses in Texas are having a problem getting employees to come back to work because they are making more on unemployment than when they were working, sometimes twice as much. Cruz said he is opposed to throwing trillions more at the problem but instead wants to focus on "recovery."
"We ought to be passing a recovery bill. Now whats a recovery bill? A recovery bill would be lifting the taxes and the regulations that are hammering small businesses, so that people can go back to work. A recovery bill would suspend the payroll tax which would give a pay raise to everyone in America whos working. That actually gets people back to work," Cruz said.
As negotiations continue, the other key provisions that Cruz is pushing for in the next federal legislation to mitigate the current economic crisis are healthcare and school choice.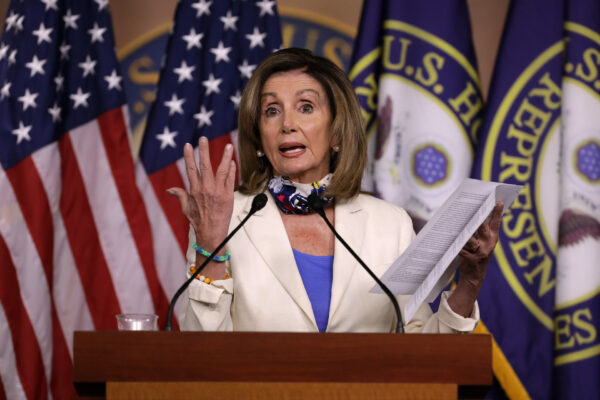 Cruz wants to expand access to Health Saving Accounts (HSAs) so Americans have the flexibility to make health care choices that best meet their familys needs, and he wants to expand School Choice by expanding scholarship opportunities.
Cruz criticized Democrats for keeping the economy closed and accused them of being motivated by politics in order to hurt President Donald Trumps chances of reelection in November.
"I am on board with restarting the economy. What Democrats want to do… were 100 days out from the presidential election. The only objective Democrats have is to defeat Donald Trump. And theyve cynically decided the best way to defeat Donald Trump is shut down every business in America, shut down every school in America," said Cruz.
"Nancy Pelosi talks about working men and women. What shes proposing is keeping working men and women from working. And, you know, ironically, what she does have in her bill, she has a big tax cut for millionaires and billionaires in blue states," he added.
The GOP stimulus legislation is still being finalized by the GOP leadership and the WRead More From Source
[contf] [contfnew]
[contfnewc] [contfnewc]