Pence: Spikes in COVID-19 Cases Caused by Dramatic Increase in Testing
The United States is seeing strong drops in COVID-19-related hospitalization and mortality rates, wi..
---
The United States is seeing strong drops in COVID-19-related hospitalization and mortality rates, with the exception of a few places, Vice President Mike Pence said, attributing the "vast majority" of new cases to a surge in testing.
Speaking at a White House roundtable on June 15, Pence said that increased cases of COVID-19 infections in some states were caused by a "dramatic increase in testing."
"Our team has been working with governors over the past week. Were carefully analyzing those new cases, and we really believe that the vast majority of new cases is a reflection, as you said, of a dramatic increase in testing," Pence said, responding to a question from President Donald Trump about nationwide case counts of COVID-19, the disease caused by the CCP (Chinese Communist Party) virus.
Trump reinforced the message at the roundtable, saying, "If we stopped testing right now, wed have very few cases, if any."
Nationwide, the positive case rate is falling, though at a slower rate than testing, data from the Centers for Disease Control and Prevention (CDC) shows.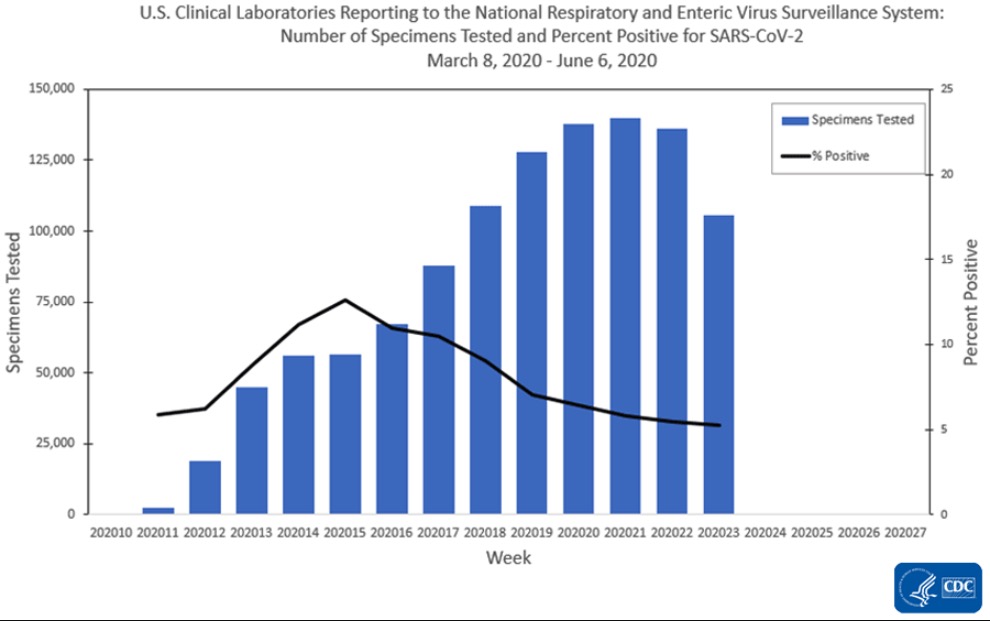 Pence, who heads the White House coronavirus task force, called the overall COVID-19 numbers "remarkable."
"With more than 22 million tests performed across America, weve seen the overall positive test rate drop dramatically & hospitalizations decline everywhere. We commend the American people for the steps theyve taken, bringing us to the point where we can safely reopen America," he noted in a tweet.
The positive test rate Pence refers to is a measure, expressed as a percentage, of the total daily number of virus tests conducted nationwide and of those tests, how many were positive on a given day. Its sometimes noted as a multi-day average, with the Johns Hopkins Coronavirus Resource Center expressing the positive test rate as an average percentage of tests that were COVID-19 positive over the previous seven days.
"The rate of positivity is an important indicator because it can provide insights into whether a community is conducting enough testing to find cases," the Johns Hopkins center stated. "If a communitys positivity is high, it suggests that that community may largely be testing the sickest patients and possibly missing milder or asymptomatic cases. A lower positivity may indicate that a community is including in its testing patients with milder or no symptoms."
The World Health Organization (WHO) said that in countries with extensive COVID-19 testing, the test-positivity rate should remain at 5 percent or lower for at least 14 days.
In the United States nationwide, the test-positive figures have dropped dramatically since hitting a peak of 21.8 percent in early April, and have remained flat for the past week or so, as of June 16 coming in at 4.5 percent.
The test-positivity rate can be considered as a decent proxy for the severity of an outbreak under some circumstances, according to Jason Andrews, an infectious-disease professor at Stanford, in remarks to the Atlantic; lower numbers are broadly suggestive of an outbreak that is less severe. A factor that decreases the utility of the positive test rate in measuring the severity of an outbreak is insufficient testing, according to other epidemiologists cited by the publication.
Pence said at the roundtable that California Gov. Gavin Newsom told him that "on Saturday alone, California performed 78,000 tests all across the state. And yet, in the state of California, their hospitalization numbers remain flat, their positivity numbers remain flat."
"And in those areas where—just a few states—where were seeing positive rates go up, well be talking to governors today, in states like Georgia aRead More From Source
[contf] [contfnew]
[contfnewc] [contfnewc]