Trey Gowdy Says No Idea Whether He Will Join Trumps Legal Team in January
Former South Carolina Rep. Trey Gowdy said he has "no idea" whether he will be needed by Trumps priv..
---
Former South Carolina Rep. Trey Gowdy said he has "no idea" whether he will be needed by Trumps private legal team given that hes barred from communicating with anyone in Congress until January.
Amid the Democrat-led effort to impeachment President Donald Trump, it was announced that Gowdy was slated to join as an outside legal counsel to the president. However, Trump said on the following day that it appears like Gowdy cant start "until sometime after January [2020]" due to lobbying rules and regulations.
Appearing on CBSs Face the Nation on Sunday, Gowdy told host Margaret Brennan that he does not know what will happen come January.
"I have no idea," Gowdy responded after being asked whether he will be involved with the presidents legal team in January.
"I dont know what, if anything, will exist in January. It may be over," he said. "My sense is the president needs folks that can represent him now before the House, the Senate, and indirectly through television shows and print media."
"For one year, I cant talk to the House or Senate, and my reading of that statute, and its a restrictive reading Ill grant you, but my reading is I cant even communicate indirectly on behalf of a person with the intent to persuade," Gowdy added about the lobbying rules.
"If Dallas doesnt start playing better, I wont be alive in January. So, I dont know who Ill be representing," he joked.
Gowdy, 55, served as chairman of the House oversight committee from 2017. He did not seek reelection in the 2018 midterms after having represented South Carolinas 4th Congressional District for eight years. He retired from Congress in January.
"Whatever skills I may have are better utilized in a courtroom than in Congress, and I enjoy our justice system more than our political system," he said at the time.
Brennan questioned Gowdy as to why he would decide to engage in the impeachment inquiry, "one of the most divisive, vitriolic arguments that could be had" after signaling that he was tired of politics when he stepped down.
"To me, impeachment is the political death penalty," Gowdy responded. "Theres a reason our country has never removed anyone from office. I look at it as a lawyer: What process is someone entitled to if you are seeking to remove him or her from office and assign to them a stigma that will echo through the halls of history? How much process is due?"
Brennan continued: "Youre talking about process there, and thats very specific here in terms of some of the criticisms from Republicans of this Democrat-led investigation." She then played an excerpt from what Gowdy told her last year in April on the show. He said at the time: "Our private hearing was much more constructive than the public hearing. Public hearings are a circus, thats why I dont like to do them, I dont do many of them, its a freakshow."
"Do you still believe that?" she asked him.
"100 percent," he replied.
Impeachment Process
House Speaker Nancy Pelosi (D-Calif.) and Rep. Adam Schiff (D-Calif.) have continued their impeachment inquiry largely behind closed doors, and rejected demands from House Minority Leader Kevin McCarthy (R-Calif.) and House Minority Whip Steve Scalise (R-La.) for a formal House vote to authorize an official impeachment procedure—something that has been done in all previous attempts to impeach a president.
Related Coverage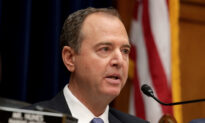 Adam Schiff Fabricates Trump Transcript During House Hearing, Claims It Was a Parody
"You cant pick and choose which aspects of due process youre going to use," Gowdy told Brennan. "Its not just the privacy; the reason we respect executive branch investigations isnt because theyre behind closed doors, its because there are no leaks.
Gowdy referred to the Mueller, Horowitz, and Durham investigations at the Department of Justice (DOJ) as examples oRead More – Source