Photos from Iraqi jail shows dire conditions of young and female prisoners
One of the pictures taken at the Tal Kayf detention facility in Iraq's Nineveh province and pub..
---
One of the pictures taken at the Tal Kayf detention facility in Iraq's Nineveh province and published by the international rights group on Thursday show young men curled on the floor in a cell so cramped they are unable to fully lie down. The prisoners' limbs are intermingled; some rest their heads on the laps of other inmates. At least one man is seen sleeping with the legs of others sprawled over his torso. In another photo from a female prisoners' cell in the same facility, women sit on the ground, their clothes and belongings hanging off the walls. Children are also seen in the cell, with barely any space to move. Human Rights Watch (HRW) said the photographs were shared with the group confidentially by an unnamed senior Iraqi penitentiary expert. CNN has been unable to verify if the photos are genuine.An Iraqi rights group has corroborated the findings. "Unfortunately it is true," Ali Akram al-Bayati, a member of the Independent High Commission for Human Rights of Iraq told CNN. "(It is) because of the large number of detainees and imprisoned persons, poor Iraqi infrastructure … corruption at the level of administration or staff in such places." The unnamed Iraqi penitentiary expert cited by HRW said Niniveh's three pretrial detention facilities — Tal Kayf, Faisaliya, and Tasfirat — had a combined maximum capacity of 2,500 people. But one senior security official, who declined to be named because he is not authorized to give statements to the media, told CNN Thursday that two of these facilities alone currently housed at least 5,400 people.Faisaliya, in Iraq's Nineveh province, contained about 2,300 prisoners, the source said, adding that the number included serious terrorist elements,More than 3,100 prisoners are housed in the Tal Kayf detention facility, including women and children, the security official added. For Tasfirat prison, figures constantly vary due to prisoners being transferred in and out of the facility every day.The source added that there was a significant shortage in the provision of supplies, including food, as well as blankets, mattresses and clothing.Mahmoud al-Jubouri, the head of the security committee in Nineveh province, told CNN these figures were fairly accurate, adding that the "Ministry of Justice has been approached to increase investigators and judges in the province to speed up (the) judicial process more quickly."Iraq's prison populations have risen recently due to major battles in the province against ISIS, al-Jubouri added.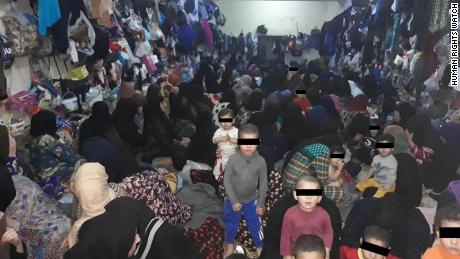 'Inhumane conditions'
HRW said the conditions were "so degrading that they amount to ill-treatment." Detainees have no space to lie down in their cells or sit comfortably, the expert said in comments published by the rights group. "These prisons are meant to be a place for rehabilitation but if authorities house detainees in these kinds of conditions, I can only imagine what will happen to them after they are released," the source said. "The authorities should ensure that prisoners are not held in inhuman conditions and that there is a legRead More – Source
[contf] [contfnew]
[contfnewc] [contfnewc]