State of the union: Why Blues rookie Murray would be Wallabies gold
Rugby Australia should be moving heaven and earth to lure Cameron Murray back to the code.
Murray c..
---
Rugby Australia should be moving heaven and earth to lure Cameron Murray back to the code.
Murray captained Newington College's first XV and was offered a "serious deal" by the Waratahs before he settled on league and South Sydney. He also happens to be off contract with the Rabbitohs at the end of 2021, which gives him about 18 months to prepare for the World Cup in France.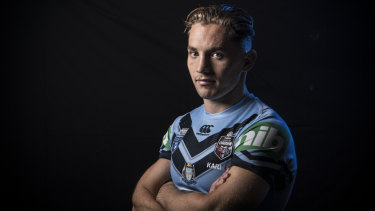 For the record, Angus Crichton, another schoolboy rugby prodigy, finishes his deal with the Roosters at the same time.
RA boss Raelene Castle would still be having nightmares about the fallout from the Israel Folau sacking, so she could use a leg-up from her league rivals.
Advertisement
I was happy at the time because a lot of people saw potential in me from league and union.

Cameron Murray
"I wouldn't rule it out at all – never say never,'' Murray tells The Sun-Herald when asked about a return to the 15-man code.
"Rugby was always such a fun game to play for me, especially in the centres because you have so much freedom with the ball. I had a serious deal from the Tahs. I was happy at the time because I was wanted and a lot of people saw potential in me from league and union.
"I've never thought about [the 2023 World Cup]. That will be too soon. Right now, and probably for the next couple of years, my mind and passion and focus is set on rugby league.
"Right now, my focus is on doing a job next Wednesday.''
Murray is one of Brad Fittler's five rookies for the State of Origin series opener but, ultimately, he picked himself, given his blistering form for Souths this season.
He's the full package and everyone is very jealous of him.

NSW teammate Damien Cook on Cameron Murray.
He speaks well, presents well, maintains an intense eye contact during conversations and just finished reading a novel on why vulnerability is healthy for the mind and soul.
As Souths and NSW teammate Damien Cook says: "He's the full package and everyone is very jealous of him.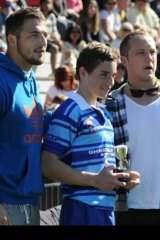 "Hes a good-looking lad and a great football player. He's smart, too. He knows what hes doing off the field and theres not much more you can compliment him on. He knows what he wants and he has his goals. Hes willing to sacrifice certain things to make sure he gets to where he wants to."
Never the biggest kid on the paddock, Murray, 21, still plays well above his weight. It made him tough. He played league with Mascot Jets and was a handy inside centre in rugby with the Coogee Blacks.
His proud father, Corey, who played 12 games with Souths in the early 1990s, can still remember driving home from a junior league game and listening to his son ask why he had been taken from the field.
"He was always cranky whenever he had to come off, but I said to him, 'you were hurt, you were crying, so you had to come from the field'," he says.
"About two weeks later I remember Cam chasing this bigger kid, they collided, the ball went flying and there was a big 'ooohhh' from the crowd. I was the trainer, I ran on and he was there holding the tears back and with his bottom lip quivering. He refused to cry because he didn't want to come off.
"We got home that night and he was in the bath and there was a massive bruise from his hip all the way down to his knee. But he was never going to say anything and leave that field."
Corey has made a point of keeping his boy grounded, right from the moment Michael Maguire handed him his NRL debut towards the end of 2017. He even scribbled a poem from Wayne Bennett's book, Man In The Mirror, which touched on the theme of being honest with yourself.
After just one short week with the Blues, several good judges have identified Murray as Boyd Cordner's long-term captaincy successor.
Believe it or not, his mother, Angela, is a Kiwi, which was not lost on a few types across the ditch who inquired about Murray playing for the Junior Kiwis a few years back.
Fittler was happy enough to make him skipper of the Blues when he was coaching the NSW under-18s. Murray also led NSW in the under-20s.
"He has that level of wisdom about him,'' Fittler says. "He's quiet, doesn't say much, but he never looks puzzled. He always seems confident in what he's doing. As a coach, when you see that, you start looking at someone else [to worry about].
"He always had that speed, really nice footwork, and he looks a natural out there."
His professionalism certainly hasn't been lost on the Bunnies either. Souths boss Shane Richardson expects Murray to take the leadership of the club from Sam Burgess when the England great retires. That's assuming rugby doesn't lure him back.
"We see him as our future captain of the club, there are no questions about that,'' Richardson says. "He's a great kid on and off the field. He's very intelligent. He's captained every side he's been in with the juniors at Souths.
"Campbell Graham is also a great captain, so we have two great leaders with those boys. They'll be with us a long, long time. I'm not worried about rugby. I know his family well; his dad is a rugby league man. He [Cameron] went to Newington for his education rather than anything else. He enRead More – Source
[contf] [contfnew]
[contfnewc] [contfnewc]