Win or lose, sit back and enjoy the ride with Kyrgios
In early January when Nick Kyrgios began his season with a second-round exit at the Brisbane Interna..
---
In early January when Nick Kyrgios began his season with a second-round exit at the Brisbane International – a defeat that saw him drop out of the worlds top 50 and left him unseeded for the Australian Open – the marvellously talented and often frustrating player had a classically laconic reply to his supposedly tough predicament: I honestly could not care less." He didnt appear to be joking.
Looking on from the outside, Kyrgios – soon to turn 24 – can seem to too easily adopt a laissez-faire attitude to his craft, much to the annoyance of us mere mortals who dream of big things while whacking tennis balls mid-week. But it's also a mindset that doesnt appear put on.
No one really knows whats destined for Kyrgios over the next decade during his stint on the international tennis circuit. Most pundits are waiting for his inevitable progression to the final weekend at one of the sports four majors. But those chances are limited to only four times a year.
The brutal truth is that nothing is guaranteed, not even for professional tennis players with an array of shots you'd kill for. When assessing Kyrgios, it's almost becoming a case of it's better to sit back, strap yourself in and enjoy the ride. After all, the Kyrgios Show is like the main feature at a leading film festival.
Advertisement
When Kyrgios surged to the Wimbledon quarter-finals five years ago, in some ways it was not a question of when the then 19-year-old would win a tennis major, but more an issue of just how many he would finish with.
With the Australian yet to cement a position in the cherished worlds top 10 and the sports father figures (Roger Federer and Rafael Nadal) tapping into their superannuation for some late career riches, the inevitable just-when-will-it-happen question lingers for a player widely considered one of the most talented in the game, certainly of those aged 25 or under.
If Kyrgios never goes on to win a major – and I'm biting my tongue writing this – just how much will it really matter?
This conundrum is partly due to the sports endless quest to evaluate individual success by results at the majors. Theres tournament wins on the WTA or ATP tours, moments of brilliance at the myriad teams events, but then there are the eye-catching triumphs across two weeks at either Melbourne Park, Roland Garros, Wimbledon or Flushing Meadows. Its no surprise that Andy Murrays Wimbledon victory in 2013 – a famous victory that ended Great Britains near 80-year men's singles drought at the All England Lawn Tennis & Croquet Club – was met with widespread acclaim. Plainly and simply, it meant a hell of a lot.
When evaluating Kyrgios at the early-to-mid-career stage it's worth reflecting on another extraordinary Australian talent of modern times who couldn't quite get there to claim a major himself.
As time goes on, the achievements of Mark Philippoussis can be seen in a slightly different light. For a man who reached two major finals and helped Australia win two Davis Cups by twice winning the deciding rubber on the final Sunday, its becoming harder – and probably unfair – to label him as an unfulfilled talent. Now the same rationale could apply to Kyrgios, whose best grand slam results remain two quarter-final berths.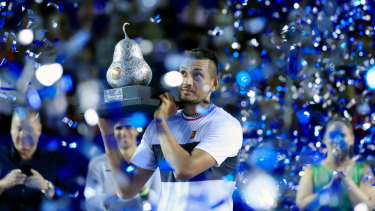 The other interesting component now about Kyrgios is that, more and more, hes meeting his part of the intrinsic equation that exists between professional sportspeople and the paying public: providing extraordinary entertainment and leaving fans sated and satisfied. Hes close to the most captivating player in the game and his catalogue of ridiculous shots to win points, or merely save them in style, is growing by the week.
Philippoussis is a long time retired and has lived through his share of ups and downs. It was on one trip to Melbourne iRead More – Source
[contf] [contfnew]
[contfnewc] [contfnewc]