Breeding's moneyball man eyeing another milestone
The day he won the Australian Derby, Ross Williams took it in on a television in Queensland. He figu..
---
The day he won the Australian Derby, Ross Williams took it in on a television in Queensland. He figured he didn't like big crowds and would stay away as Angel Of Truth ran his rivals into the Randwick mud.
The next day, he had a two-year-old called Superium heading west for the Wellington Boot. If he didn't make it to Randwick for one of the biggest days on the Australian calendar, he wasn't going to make it to western NSW. His horse also won.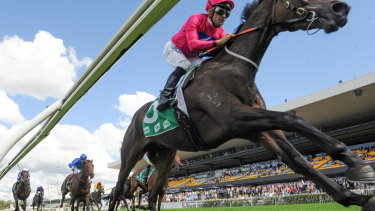 It was about as good a weekend as he could have hoped for. At the end of it, he dived back into a software program he's been developing for more than a decade knowing exactly what he's been working on is finally paying off.
In the breeding game, there are those who like to take a chance and those who leave nothing to chance. Williams fits into the latter category.
Advertisement
"It's not a fluke," Williams says. "It's hard work, lots of hard work."
The man who races his string under the Superhorse banner because one day wanted to breed a super horse – he knows it's corny – has done exactly that. And he might be breeding's answer to baseball's moneyball, a workaholic who devours data in a bid to find inexpensive efficiencies.
By his own admission, his work to find the right matings each year for a broodmare band of about 15 is complex. His introduction to the industry was harsh, having thrown away a huge investment when breeding without reason initially with a friend.
"I thought after that I'd better study this and improve on what we'd done," Williams says. "I'd invested money and lost it all so I wanted to recover it. I studied it myself and it took about five years to get my head around it.
"Then I understood what needed to be done. I wasn't born into it, I had to read and learn a lot of things. I'm still learning now. It gets better each year as you learn.
"I've written my own software system which has taken 15 years to write – and I'm still writing it as we speak. It does complex algorithms and it researches dominant traits. You only get an outcome that is rated a chance if you cross a a dominant and recessive mating."
He's also delved into genetic research and hair sampling.
But his major principle is simple: find unproven stallions he thinks will make it and send numbers their way until you find the right match. For example, Williams says he used I Am Invincible when he was standing for just $7000, Lope De Vega for $10,000.
One of his progeny from the latter, Gwenda Markwell's Archedemus, is poised to start favourite in the $500,000 Provincial Championships final at Randwick on Saturday.
"My record for picking them has been increasing exponentially,&quotRead More – Source
[contf] [contfnew]
[contfnewc] [contfnewc]