See the sights in Western Australias Golden Outback
From pink lakes and a crystalline coast to red-dirt roads and a monolith twice the size of Uluru, Au..
---
From pink lakes and a crystalline coast to red-dirt roads and a monolith twice the size of Uluru, Australias Golden Outback is a feast for the eyes
Win a £1,000 marketing fund to help you sell Western Australia with Gold Medal!
When visiting Australias Golden Outback, Esperance makes a mesmerising base. Its home to whats often considered the countrys whitest beach, Lucky Bay, which is not only popular with tourists, but kangaroos too. The iconic marsupials tend to bounce along the sand and bask in the sunshine. Lucky Bay is one of many natural beauty hotspots in Cape Le Grand National Park, so its
a great area to explore on a bush walk. Wildflowers come into bloom in spring, and rock climbing is a popular activity at Frenchmans Peak and Mount Le Grand for those in search of an adrenaline rush.
A boat trip brings visitors to Middle Island, the home of Lake Hillier, a bubblegum-pink body of water just 600 metres wide. An alternative – and more luxurious – travel option is to take a scenic flight from Esperance and get a birds-eye view of the curious lake.
The heart of the Outback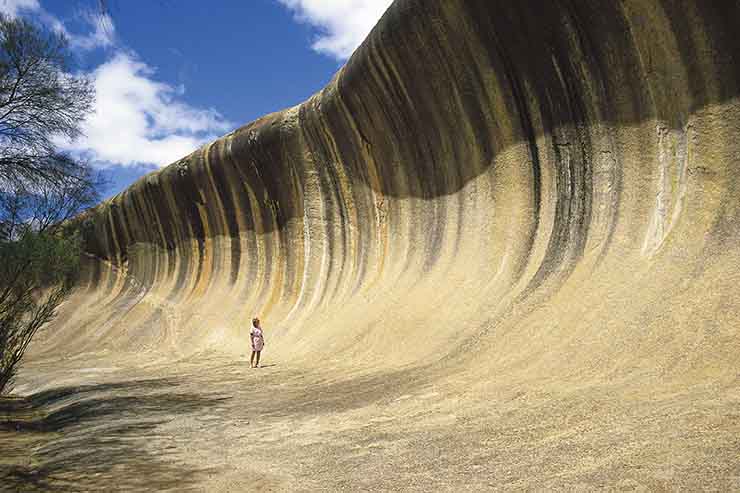 Inland, more natural wonders await adventurous visitors. The gigantic monolith known as Mount Augustus is twice the size of its iconic sister, Uluru, and shares the site with a collection of ancient aboriginal paintings. Wave Rock is also a sight worth seeing, as the unusual formation looks like a breaking wave.
Meanwhile, Lake Ballards cracked white surface rivals Bolivias bucket-list salt beds and has inspired the respected British sculptor Antony Gormley to plant here 51 life-size human forms in an installation hes named Inside Australia.
This artsy attraction is based near the Golden Outbacks largest settlement, Kalgoorlie. The towns Hannan Street is dotted with lively pubs, bars, nightclubs and restaurants, while the best sunsets can be seen from Mount Charlotte. Kalgoorlie is also home to the Super Pit, one of Australias biggest open-cut gold mines. Providing more of a taste of the countrys gold-rush history is the Golden Quest Discovery Trail, which encourages guests to follow red-dirt roads, share stories with locals in a welcoming Outback pub, explore the ghost town of Gwalia and delve deeper into gold-rush territory.
The charm of this golden hinterland truly lies with its natural phenomena and cultural history.
Book Western Australia with Gold Medal now!
Gold Medals AAT Kings Tour, South Western Escape, itinerary includes:
Visits to Perth, Wave Rock, Kalgoorlie, Esperance, Albany, Margaret River and Fremantle
Calls at Cape Le Grand National Park, the stunning Stirling Ranges,
the Valley of the Giants tree-top walk, Margaret River and Busselton Jetty
Nine nights accommodation with selected meals
Fully escorted tour with driver and travel director guide, selected meals, sightseeing and transfers
Flights from Heathrow with Singapore Airlines
Prices Read More – Source
[contf] [contfnew]
[contfnewc] [contfnewc]