'We thought it would be wonderful – we didn't know what was to come'
By Andrew Webster
April 5, 2019Normal text sizeLarger text sizeVery large text size
Its the run no..
---
By Andrew Webster
Normal text sizeLarger text sizeVery large text size
Its the run no player wants to take. First run off the kick-off, off your own tryline, the tap restart. Its the brave line infield towards the teeth of the defence, instead of the outside line towards the sideline.
Theres not much love for the "No Love Run", but certain players stake their reputation on them.
In more than 200 matches for the Tigers, Cowboys, Roosters, NSW and Australia, Luke ODonnell was such a player.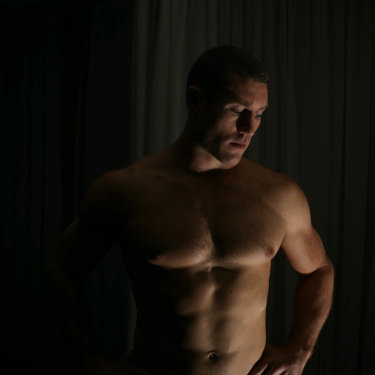 In late January, ODonnell readied himself for another "No Love Run".
"Thats it, Lukey," he said to himself. "Hit the ball up again, Lukey."
This time, ODonnell wasnt on a football field. He had just walked into a courtroom at the Downing Centre in Sydney, where he was facing charges of damaging property, intimidating with intention to harm and assaulting and resisting a police officer. The charges followed a harrowing scene at ODonnells Clovelly apartment in the early hours of June 3 last year in which six police officers wrestled him to the ground and then tasered him because he refused to be handcuffed.
Advertisement
His distraught mother, Dianne, called police after her naked son had held a knife to his throat and said, "I am going to kill myself" before trying to throw himself out the window of the fourth-floor apartment before his father, Ross, pulled him back in.
"Hes got mental health problems," Ross says now. "The games had a big effect on him. As much as he loved it, I dont know how he feels about it now."
The purpose of this story isnt to cast blame, although Dianne feels rugby league must shoulder some.
"As much as I love rugby league, I dont think it did enough to help him when his career finished. I know its up to the individual. You have to take responsibility for yourself. But its that environment."
If anything, ODonnells story says something about the men the game creates.
Luke ODonnell is a special young man. He represents all the Westfields Sports High community aspires to … He is a leader.

WSH Principal Phil Tucker in 1998
Advertisement
Its about an unassuming kid from the South Coast who lived for footy and fitness; who didnt drink alcohol to the point he thought less of those who did; who was captain of his school; whose demeanour swung on an injury that almost ruined his career; who won a premiership in his last match before his life spiralled into a haze of drugs and alcohol, leaving him broken personally and financially.
Who, three years ago, sat in his parents kitchen in utter despair and told them: "Ive got nothing. I dont own anything, Ive had all these years of playing and what have I ended up with? Nothing."
Ross and Dianne ODonnell live in a two-storey home a few streets back from Mollymook Beach, about a three-hour drive south of Sydney. They have reached out because they want people to know their son is not the man seen in the graphic black-and-white footage from the body camera on one of the police officers of him spinning out of control. They dont want people to judge him on the front-page image of him sitting inside a perspex cell at Maroubra police station.
The ODonnells have barely heard from their son since the morning of June 3.
"There have been little messages here and there," Ross says. "But hes angry. He wants to blame us for his problems."
There are no photos of their son on the walls. No evidence of his career. But then they scatter dozens of old photos, references and old contracts across their dining room table.
Advertisement
One letter, from 1998, bears the letterhead of Westfields Sports High. ODonnell went there for the final two years of his schooling and was made Year 12 captain.
"Luke ODonnell is a special young man," wrote the long-time principal, Phil Tucker. "In effort and achievement, Luke represents all the Westfields Sports High community aspires to obtain for its members. He is a leader."
Hed shown the same attributes from an early age, as a junior for Milton-Ulladulla then Albion Park. He had the same chiselled physique as Ross, so much so that people wondered how an eight-year-old could possess such powerful legs.
On the field, he was never the best player but the hardest worker — and tackler. In 1997, Balmain coach Wayne Pearce and other officials were sitting in the stands for a match between Westfields and Holy Cross Ryde. They were there to see Holy Cross hooker Mark Riddell. At full-time, they rushed to ODonnell, who had played the game of his life.
He made his debut for Balmain in 1999 but his big chance came the following year when the club merged with Western Suburbs to form the Wests Tigers. After Kiwi international Jarrod McCracken suffered a serious neck injury from a spear tackle, Pearce handed the vacant jersey to ODonnell.
Advertisement
"Ill never let go of this jumper, Mum and Dad," he told them. "Id do this for nothing."
In the hours I spend with the ODonnells, Dianne sheds many tears. Shes been through a lot. She blames herself for calling the police that night, even if it was in fear of her son hurting himself. But the only time Ross becomes emotional is when he talks of this moment.
"Because it was his dream," he says. "It wasnt the money that motivated him. Some mightve seen it as a pot of gold. He just wanted to play at the top level. To see how he walked onto the ground; how straight and erect, he just walked with pride. It was great to see him grow into this man."
One person who admired ODonnell from afar was Jack Gibson, the revolutionary coach who was introduced to him by Dan Stains, who played under Gibson at Cronulla and was now coaching at the Tigers. ODonnell was Gibsons kind of player: supremely fit, hard-working, the best defender on the field. Gibson would call him after each match, offering praise and criticism in equal doses.
In 2003, his aggressive style cost him. He was suspended for 11 matches for a high tackle that broke the jaw of Canberra rookie Michael Monaghan. During his suspension, he thought about life after footy. He once turned up to Balmain training in his Westfields High uniform and some of the older players called him Brains. He wanted to study part-time at the Australian College of Physical Education.
"Do you want to be a footballer or go uni?" Tigers coach Terry Lamb asked him.
He didnt go to university and he didnt play for the Tigers again. He headed north to the Cowboys. His career took a similar trajectory. Grand final appearances, NSW and Australian jumpers, shirtless photo shoots for womens magazine Cosmopolitan. A few years later, he would feature in the Gods of Football calendar.
Advertisement
Playing careers swing on the slightest of moments. In rugby league, it often swings on a tackle gone wrong. The moment when everything changed for ODonnell was a tackle in April 2007 against the Tigers.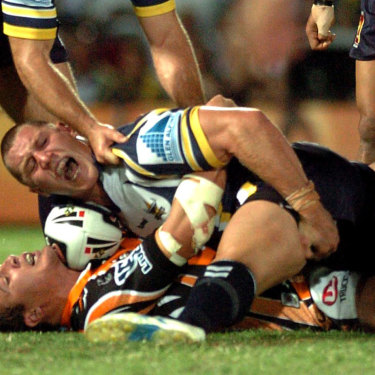 Midway through the first half, Tigers defenders Bronson Harrison and Liam Fulton pulled his legs apart like he was a piece of KFC, snapping the wishbone apart. ODonnell bellowed with pain as all three hamstring tendons were ripped from his pelvis.
I remember thinking please dont do it but he went ahead and did it," ODonnell said at the time. "I was pretty dirty on that."
He was even angrier when the NRL match review committee refused to charge them, despite the pleas of the Cowboys. ODonnell was sidelined for more than six months. After six weeks on his back following surgery, he had to learn how to walk again.
"The more Ive looked at it, the indication has become stronger and stronger that was a turning point," Ross says. "How his personality became, it points directly to that incident. People dont realise he didnt know if he would walk properly again let alone play."
Says Dianne: "Hed been on a lot of medication. We dont know how long that went on. Weve only started putting these pieces together lately, trying to work out what has happened."
People at the Cowboys from that time agree ODonnell was never the same. He went from being an aggressive player to a bitter one.
"There was always a fire in him," says one former teammate. "But after that he was just angry. He was angry that his career almost ended, and nothing happened to them."
ODonnell was angry. In one match against Penrith, he was reported twice for head-high tackles and then for abusing an official. While playing for NSW in 2010, an all-in brawl erupted after he spear tackled Queenslands Darius Boyd. He then used the head of Maroons forward Dave Taylor as a punching bag.
"I thought he was going to eat him, Blues halfback Mitchell Pearce said.
In another match, also against the Tigers, ODonnell was penalised four times, placed on report and sin-binned … in the space of a minute.
"It became an agenda against him," Ross says. "Some of the media coverage, especially when he played against the Wests Tigers, was very inflammatory. Players goaded him. The referees directed their attention at him."
Frustrated, ODonnell signed with Huddersfield in the UK Super League and left as the most suspended player in NRL history, having spent 29 games on the sidelines. Running around the north of England, ODonnell, now in his early 30s, figured hed never play in the NRL again.
One man who thought differently was Trent Robinson. The pair played together at the Tigers. Robinson was impressed with ODonnells dedication then, just as he was as the young coach of Catalans. When Robinson became Roosters coach in 2013, he made sure ODonnell came home with him. Back then, the Roosters pack had a soft underbelly. Plenty of skill but couldnt play tough. ODonnell was aggressive, had quick leg-speed, could do a job.
He came on early in the second half of the grand final against Manly despite a hamstring injury. He got the forward pack going but then felt his hamstring go. He squeezed another five minutes out before Robinson replaced him, job done.
Halfway through the lap of honour, ODonnell found his parents in the stands and told them he was going to retire.
"He was ecstatic, after everything hed gone through," Dianne says. "Thats what made him decide to finish. The culmination of all the years of hard work. We thought it was going to be good. He had a marriage, he had children, he had everything going for him and we thought it would be wonderful. We didnt know what was about to come."
For as long as anyone can remember, ODonnell didnt drink alcohol. Former Tigers teammates say he was proud of the fact and ribbed them whenever they fronted recovery sessions with a hangover. Same deal at the Cowboys. He drank, but very rarely.
The signs of its influence were there at the Roosters when, early into the season, he was stood down for "breaching the clubs standards" when late to training.
Almost within months of winning the premiership, though, he seemingly lost control. A failed business venture — a chicken shop in Rosebery — was one of the triggers, according to his parents.
"I thought he undersold himself," Ross says. "He had a lot more potential than running a chicken shop. But he was determined to throw himself into it."
Rumours about ODonnells off-field behaviour swirled. He was arrested and charged for drink driving, although the media never found out. "He was a mess after that," Dianne says. "Devastated. Just the shame of it."
He joined Manly as a strength and conditioning coach under Trent Barrett but that only lasted a year. When he finished, he only offered one explanation: "Ive had enough of rugby league". Soon after, he checked into a rehab facility south of Sydney.
"It was for alcohol and other drugs," Dianne says. "We dont know what other drugs and we didnt ask. In our eyes, we dont know what was going through his head. He said theres nothing wrong but it was a façade. His marriage had ended. We knew that his life was falling apart but we didnt know why."
Ross understands why his son didnt reach outRead More – Source
[contf] [contfnew]
[contfnewc] [contfnewc]