The perpetual positivity of Hong Kong's other Magician, Karis Teetan
In a week full of stories about jockeys starving to make weight for Saturday's Doncaster Handic..
---
In a week full of stories about jockeys starving to make weight for Saturday's Doncaster Handicap, Karis Teetan will eat three meals per day, then walk into the Randwick jockeys' room with a spring in his step and a smile on his face.
Teetan ­– all fast twitch muscle and that ever-present smile – has used his skills in the saddle to pull his family out of poverty in Mauritius as he plies his trade as one of the top riders in Hong Kong, but the next flying stop is Sydney.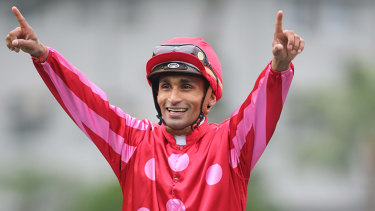 The 28-year-old's featherweight frame and blast furnace metabolism means he will savour a race eve steak and full breakfast on race morning – a luxury many of his wasting rivals would be dreaming of in saunas this week – before being legged aboard Chris Waller's I Am Serious, allotted 50 kilograms in the Doncaster.
"I walk around at 108 pounds (49kgs), so I don't have to go on a special diet," Teetan said before riding a double at the Sha Tin dirt meeting on Wednesday night. "I just do lots of gym and stay in good shape, but I had a big dinner last night and a big breakfast this morning. When I get to the jockeys' room maybe I can bring some McDonalds in just to freak them out a little, ask them, 'Anyone else riding 50 kilograms? … Who wants a bite?'"
Advertisement
Teetan is of course joking and it is that jovial nature as much as a matching riding style – quick into stride and always pushing forward – that has endeared him to trainers in a cutthroat Hong Kong scene where jockeys represent themselves, sans agents.
Teetan, dubbed the Mauritian Magician, has 65 winners this season and is second to Zac Purton in the Hong Kong jockeys' championship and ahead of Joao Moreira.
And like that other Magic Man, Teetan's rise from poverty is the stuff of legend.
It was somewhere around the time that his father Pravin took a third job, this time on a construction site – to go with the backbreaking work in the sweltering cane fields of Mauritius ­– that the youngster decided he was going to make it, no, he simply had to make it, as a jockey.
The disadvantaged background could have easily been a chain to poverty but Teetan credits an early home life for his effervescent personality, positivity and relentless drive.
"Life is pretty simple in Mauritius, and in many ways there's nothing to worry about," he said. "Today we might have money, tomorrow we don't, and for some families that means trouble, but our family it was always cool. I've always grown up just being happy and just being myself."
Pravin was earning little more than $250 per month to support his family of five, then took out a loan to send his 13-year-old son to the renowned South African Jockey Academy.
"People ask me why I work so hard, but I have grown up with people like my dad around me and I could see what he was doing," he said. "So I like to work hard and do good things, and when I ride a winner I appreciate it, I know where I come from."