Netanyahu supporters ahead of polls: 'Bibi forever'
Benjamin Netanyahu — who was the country's youngest prime minister when he was elected in 1996,..
---
Benjamin Netanyahu — who was the country's youngest prime minister when he was elected in 1996, and now hopes to become its longest serving — faces his toughest electoral challenge in 10 years.It comes in the shape of Benny Gantz, a former Chief of the General Staff of the Israel Defense Forces, who has gathered together a "blue and white" alliance, named after the colors of the Israeli flag.By its very nature — a collection of centrist and center-right political parties that includes no fewer than three former IDF chiefs of staff — the alliance presents a substantial challenge to the man who has dominated and reshaped Israeli politics for the past decade.Having three military heavyweights lined up against him makes it harder for Netanyahu to play the security card that has served him so well for so long.And that means the Blue and White Party could prove acceptable to some of Netanyahu's current right-wing coalition partners.For now, Gantz's alliance is leading in the polls, and given that Netanyahu is fighting this time not only for his political life but potentially for his own legal protection, the battle looks set to be a bitter and personal one.But don't count him out just yet — this is a man who has connected deeply with a large chunk of Israeli society.In the southern Israeli town of Beer Sheva, where nearly 40% of people voted for Netanyahu's Likud party at the last election, the streets are full of posters that read: "Davka Netanyahu.""Davka" translates roughly as "because of" — meaning these posters are urging people to vote for the Prime Minister not in spite of the corruption charges, but, rather, because of them.It is a reflection of the Prime Minister's strategy of portraying himself as the victim of a left-wing, media-led conspiracy aimed at evicting Likud from power.In Beer Sheva, the message seems to resonate.On our tour of the local market, both sellers and shoppers alike stopped us to tell us "Bibi forever" and "only Bibi." As Naftali Cohen, a local retiree, put it, "I have voted Likud all my life. Netanyahu takes care of our security and economy."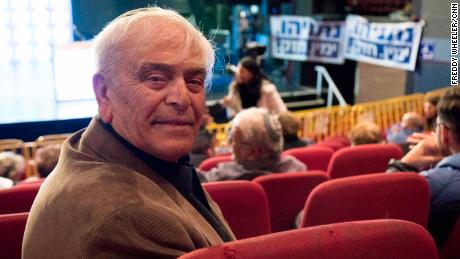 "People need to understand that if they want to compete against him they have to find a rival of his stature. But there is no one in his league. No one that can replace him," Cohen said.True to form, Netanyahu used his rallying speech in the town last month to lay into the opposition and the media."The left may have the media," he told the small but passionate crowd, "but we have the people."He accused his opponent, Gantz, of being a leftist disguised as a centrist — a harsh insult in the current Israeli political climate, and one designed to scare off any right-wing parties toying with the idea of forming a government with Gantz's party after the election.In turn, his supporters shouted back a clear and enthusiastic message: "Bibi — the King of Israel!"Clutching a Likud campaign poster, Marlene Malachi told us at the rally, "after seeing all the Israeli leaders I can proclaim that Netanyahu is a legend."The 73-year-old went on to tell us everything the Prime Minister had done for her town."You should look at pictures of Beer Sheva 10 years ago and today — it's unbeRead More – Source
[contf] [contfnew]
[contfnewc] [contfnewc]