Sports
Sport strikes gold with $300m budget boost for Olympic stars of future
Gold medals might be in short supply for Australia at next years Olympic Games in Tokyo, but Tuesdays federal budget offers a financial fillip to young athletes aiming to represent in Paris in 2024 and Los Angeles in 2028.
Over $300m will be allocated over the next two years to physical activity and sport, with half spent on Sport Australia projects, including pathways for emerging athletes, traditionally one of the most neglected areas of funding.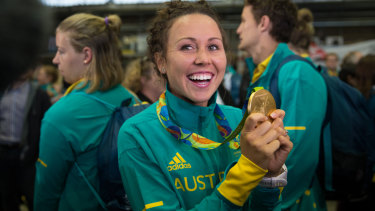 "Offering opportunities for talented kids has been one of the biggest areas of sport in Australia which has previously been under-invested," Sports Australia chairman John Wylie said. "This is a massive boost. Its an investment for Australia having athletes on the Olympic podium in the future."
Gold medal-winning Rio Olympics rower, Kim Brennan, said: "This means so much for Australias emerging athletes who have being doing it tough for some time, relying on the bank of mum and dad."
Advertisement
Former world champion marathoner and past AIS director, Rob de Castella, said, "Its absolutely critical that we give the next generation athlete support to nurture them.
"Its those formative years from 16 to 20 when all their development takes place. They dont have the profile to be recognised (commercially with sponsorships). Its important for the government to step in because they are not going to get outside help from anyone else."
This means so much for Australias emerging athletes who have being doing it tough for some time, relying on the bank of mum and dad

Kim Brennan, Olympic champion rower
SA will receive $154m over two years for its projects, including $54m of new funding for athlete pathways with the aim of encouraging talented youngsters to progress from club sport to regional teams and on to state institutes of sport and hopefully to win medals at Olympic Games. Funds will be allocated to talent identification camps, as well as coaching for emerging athletes.
However, athletes training for Tokyo have not been neglected, with a boost to the Direct Athlete Support scheme which provides mean tested grants, freeing athletes to train during traditional working hours.
The $100m balance of Sport Australia funding will be allocated to Sporting Schools, community sport infrastructure and social inclusion programs in regional areas. The Sporting Schools program will receive another years funding of $46m, allowing national sporting organisations to send Development Officers to schools to impart skills and encourage participation in weekend sport.
Approximately $40m will be focussed on neglected areas of funding, such as changing rooms for female athletes and social inclusion programs in regional sports clubs, aimed at disadvantaged minorities.
Funds from a $19m social inclusion pool will be offered, for example, to cricket clubs for integrating members of the Afghan community in Shepparton and the Sikh community in Coffs Harbour into teams.
The other half of the $300m sports funding in the budget will be spent on infrastructure, principally upgrades of facilities. For example, the Carss Park swimming pool at Kogarah where Michelle Ford trained ahead of her gold medal win at the 1980 Moscow Olympics will undergo a renovation. Other community sporting facilities, such as tennis courts, can draw from this $150m pRead More – Source
[contf] [contfnew]
[contfnewc] [contfnewc]