'Not on the radar': Worsfold slaps down talk of Hird return
Essendon coach John Worsfold has dismissed talk of a potential return of sacked former coach James H..
---
Essendon coach John Worsfold has dismissed talk of a potential return of sacked former coach James Hird, while saying that improvement for the embattled Bombers must come from players.
The discussion around a return of the disgraced former Bombers coach has kicked up following the club's round two loss to St Kilda, who many predicted would finish in the bottom four.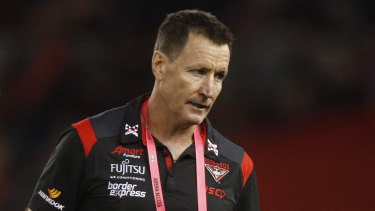 The AFL suspended Hird for his role in the supplements saga, and when he returned, the Bombers great eventually lost his senior coaching role at Essendon.
Asked if he would entertain a return of Hird to the club, Worsfold replied with a categorical "no".
Advertisement
"It's not on the radar, not for discussion in any way, shape or form right at this moment.
"I haven't heard anything about it, I'm not sure where it's come from. You're the first person who's raised it with me," he said.
Worsfold laid out a road map for the week ahead with no significant variation, with no "massive changes" to selection or game plan.
Friday nights MCG match against Melbourne is a crisis clash for the two teams, who languish at the bottom of the ladder with 0-2 starts.
Worsfold was confident in his game plan, saying that many issues from round one had been addressed in time for round two, and put the onus on players to better execute it.
"I wouldn't say there has been a lack of direction, but ability to execute, that hasn't been good enough."
He characterised the discussions he was having with the team as "just normal discussions" with a continued focus on players getting the best out of themselves this week as they had last week.
He referred to Kyle Langford and Matt Guelfi running past a live ball on their way to the bench as a "simple mistake" and an "isolated incident".
Worsfold also dismissed questions about his decision to start former GWS midfielder Dylan Shiel on the bench during the last match, saying: "Dylan will play 100 out of 110 minutes on the filed, if people are worried about which 10 minutes he spends on the bench then they can worry about it.
"It was his turn to start on the bench last week, that means he probably won't this week."
Injured swing man Cale Hooker will be available to play "if not this week then the next," but Worsfold warned he would need to tick all the boxes first to ensure a good bill of health.
The pressure is on Worsfold after the Dons' slow start to 2019, with Essendon great Tim Watson calling him a "battle-weariRead More – Source
[contf] [contfnew]
[contfnewc] [contfnewc]