Nikou wants A-League deal done by June 30
FFA chairman Chris Nikou wants the A-League clubs and the games stakeholders to hammer out a deal ov..
---
FFA chairman Chris Nikou wants the A-League clubs and the games stakeholders to hammer out a deal over the establishment of an independent competition by the end of June.
The recently appointed chairman says that once agreement has been reached on the new league set-up, there are several other contentious issues – including the establishment of a second division.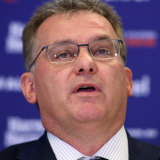 The FFA released the working report of the New Leagues Working Group on Monday evening in the interests of transparency, insisting that any new and separate professional leagues entity must have regard to the best interests of Australian football as a whole and that the new leagues entity would be responsible for the professional football leagues including, but not limited to, the A-League, W-League and Y-League.
Once the new league set-up was established, major issues over the development of the game could be resolved, said Nikou. The mooted second division – which is being debated by the FFA and second-tier clubs – could be the route to A-League expansion, Nikou said.
Advertisement
I would like to see the dialogue continue in a positive way and hopefully move to a resolution quickly, but it has to be the right resolution.
All things being equal, why would you not look to a second division as a pathway to expansion.
Once we have the new leagues working group locked in things will flow from that. We are moving to 12 teams in the next two seasons. We need to look at going to 14, possibly 16, he said.
Promotion and relegation is also part of the equation, even though under the existing participation agreements A-League clubs have a right to be in the top-tier competition until 2034.
That is the current situation, said Nikou, acknowledging that conditions could change.
I dont want to create the impression that it [promotion and relegation] cant happen until 2034.
But there have to be some building blocks, and the creation of a financially viable and solid second division is one of them. But it has to be financially sound … there is no point in setting something up if its not based on solid foundations.
There is still a lot of work to be done for the A-League clubs and the state federations, who will have the final say on howRead More – Source
[contf] [contfnew]
[contfnewc] [contfnewc]