How a discarded Tom Scully ended up in a Hawthorn jumper so soon
Tom Scully cost his second club, Greater Western Sydney, $6 million over six years and delivered the..
---
Tom Scully cost his second club, Greater Western Sydney, $6 million over six years and delivered the Demons two first round draft picks, in one of the largest deals in footy history. He came to his third club, Hawthorn, for a 2019 draft pick that will be in the 70s or 80s, as part of the Giants' salary cap clearance sale.
He cost the Giants a mint, yet was given away like a 1996 Hyundai, for two reasons: One, there were major doubts about whether he could overcome a serious ankle injury; two, the Giants needed to get his contract – close to $600,000 for three years – out of their bursting salary cap, in a trade they insist improved their bargaining position with Essendon over Dylan Shiel.
If Scully goes on to play 100 games for Hawthorn – and that remains an "if" comparable to the Gold Coast retaining their next crop of players – the Hawks will have pulled up another heist, the third occasion in which a highly talented, purported crock has been healed at Hawthorn.
Scully's return to senior football, well before expectation, prompts two questions: 1) How he ended up being donated to the Hawthorn midfield and, 2), how he's made it back this soon, when the prognosis for his ankle was so grim.
Advertisement
1. The Donation.
To answer the first question, consider the history of Shaun Burgoyne, who literally arrived at Hawthorn on crutches.
Burgoyne had a bad knee at Port Adelaide. He'd just turned 27 – around the same age as Scully today. Alastair Clarkson is understood to have told Burgoyne that, for the trade to work, "Silk" would have to play for at least three seasons.
That was 2009.
Burgoyne – entering his 10th season at Hawthorn, with 202 games and three flags in brown and gold – would become a powerful marketing tool for the Hawks when they were eyeing a second talented midfielder with a troublesome knee, Jaegar O'Meara.
O'Meara chose Hawthorn, in part, for the same reason that Scully didn't meet with any other club when making his move. He believed that the medical/conditioning record of the Hawks meant they were his best shot at resurrection.
While O'Meara remains an injury risk, he is gradually being restored to showroom condition. At the time of his exit, the Suns' view was that he would "come good'', as they say, and his knee would mend.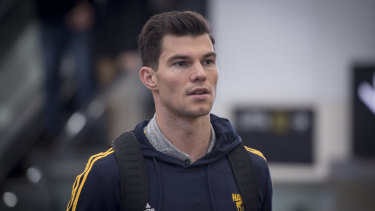 This was not the view that surrounded Tom Scully at GWS. That the Giants were willing to let him go for a 2019 fourth rounder, while they demanded two first rounds from Essendon for Shiel and extracted a decent pick for a kid who hadn't played a game, Will Setterfield, tells us enough about their medical assessment.
When the Giants raised the prospect of Scully moving, he and his management discussed the options before settling on Hawthorn. Geelong, North Melbourne and St Kilda inquired, but were never given a sniff.
They met with Clarkson and the head of football, Graham Wright, on the same day Scully saw Hawthorn's medical team, headed by Michael Makdissi. A decision was reached swiftly to nominate the Hawks.
That the Giants needed to get Scully's money out and the fact that they were, in effect, driving the exit meant they weren't in a position to demand much, and couldn't create an auction.
That said, it's probable Scully would have fetched pick 15 – subsequently used for Chad Wingard – or a 2019 first rounder had his body been fine, albeit a pristine Scully wouldn't have been on the block. Once Hawthorn completed a medical, the price plummeted like Lehman Brothers in 2008.
Hawthorn picked up Scully's contract, which had three years to run. For the Hawks, this was the major risk.
The deal was settled early, two days before the trade deadline. If Scully went for a song, GWS believe they gained leverage in dealings with Essendon over Shiel. As the deadline beckoned, the Giants had offloaded Scully, Setterfield and Rory Lobb (to Fremantle); it was – theoretically – possible they could keep Scully. Or that was their bluff in the trade period card game.
Essendon, which was committed to Shiel, would give up pick no 9 and a 2019 first rounder (with a second round coming back) for their prized midfielder. In GWS's mind, it is better to view the deals as a package – they lost Scully and Shiel for two first rounds plus a late pick, opening up cap space that might enable them to retain Josh Kelly and Stephen Coniglio.
2. Lazarus with a busted ankle.
Hawthorn did not place any expectations on Scully's return to senior football once he started pre-season. He was deemed "indefinite'' and the Hawks – whose chief physio, Andrew Lambart, had been at the club throughout the Clarkson era – were not counting on him playing early in the season.
Scully broke his ankle almost exactly 12 months ago, in the round two game against CRead More – Source
[contf] [contfnew]
[contfnewc] [contfnewc]