Sports
'Just pay him out': Manly star's plea to end Barrett farce
Manly star Jake Trbojevic has implored the club to pay out Trent Barrett, believing it would be "childish" to expect the departing coach to serve out his term in a lesser role.
Sea Eagles players will begin their preseason from next week, raising the prospect of Barrett and his successor, Des Hasler, both being on the training paddock when they arrive. Barrett handed in his 12-month notice period last July, but the the Manly hierarchy are reluctant to pay him out and have threatened to redeploy him into a lesser role.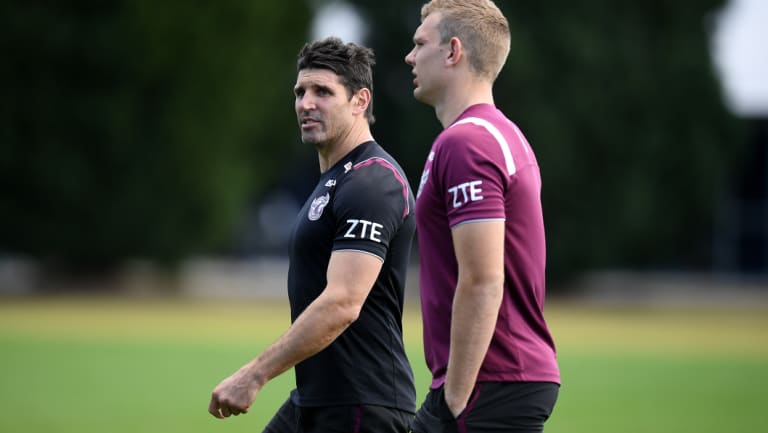 Barretts legal advisors and the club are yet to strike a settlement, although there are hopes that could happen on Monday.
The Trbojevic brothers, Jake and Tom, are excited about the new Hasler era, but feel a strong sense of loyalty to Barrett. Jake said it was time to bring the matter to a head.
Advertisement
"I think that has to be sorted soon," Jake Trbojevic said. "I think they just have to pay him out. That would be the sensible option. I dont think making him turn up would be very sensible.
"If they made him coach 20s or something like that – he is such a good coach – if they did that, it would be a bit childish. I think they need to pay him out."
Tom added that he had "mixed feelings" about the upcoming season, welcoming Haslers appointment but sympathising with Barretts plight.
"Its hard. I really like being coached by Baz," Tom Trbojevic said. "It will be a different challenge that Im excited for. Mixed feelings but Im looking forward to get back into it and winning more footy games."
Hasler is again surrounding himself with trusted off-field staff on the northern beaches. Strength and conditioning trainer Don Singe and speed coach Clayton Kearney will join the coach at Narrabeen. Fairfax Media can reveal mental performance coach John Novak – who has previously worked with Hasler across six NRL campaigns – is also in discussions about a return.
"I would love to go back to the Sea Eagles," Novak said.
"I love working with a guy who is pretty dynamic and we have a great record together. This team he is assembling – Don Singe and Clayton are fantastic – all know each other and Des is one of the best coaches in the NRL.
"This is amazing, I didnt expect this would happen at all. Im excited, Im over the moon that there is a possibility that we could work together. Were just working out some details and well see what happens."
Haslers homecoming has been well received by club luminaries, but the future of Barrett remains clouded. The former NSW pivot seemingly doesnt have a club to go to when he parts company with Manly, although there could be an opening for an assistant somewhere after the coaching merry-go-round finally came to a halt. Jake Trbojevic hopes he will get another chance as an NRL head coach.
"I really do, I am pretty confident he will," he said. "He is a very smart footy coach but on top of that he is a great person. He is great for culture. Any club that gets him is going to be better off for getting him.
"I was a big fan of him so it is sad to see him go. It is good in a sense we have a good coach coming in."
Adrian Proszenko is the Chief Rugby League Reporter for the Sydney Morning Herald.